An inspiring new short format series from Corona Studios, Protect Paradise, premiers on YouTube this World Oceans Day, June 8, and follows South African big wave pro surfer, Frank Solomon, as he travels down the South African coast to meet local heroes who are trying to turn the tide against pollution on beaches and in our seas.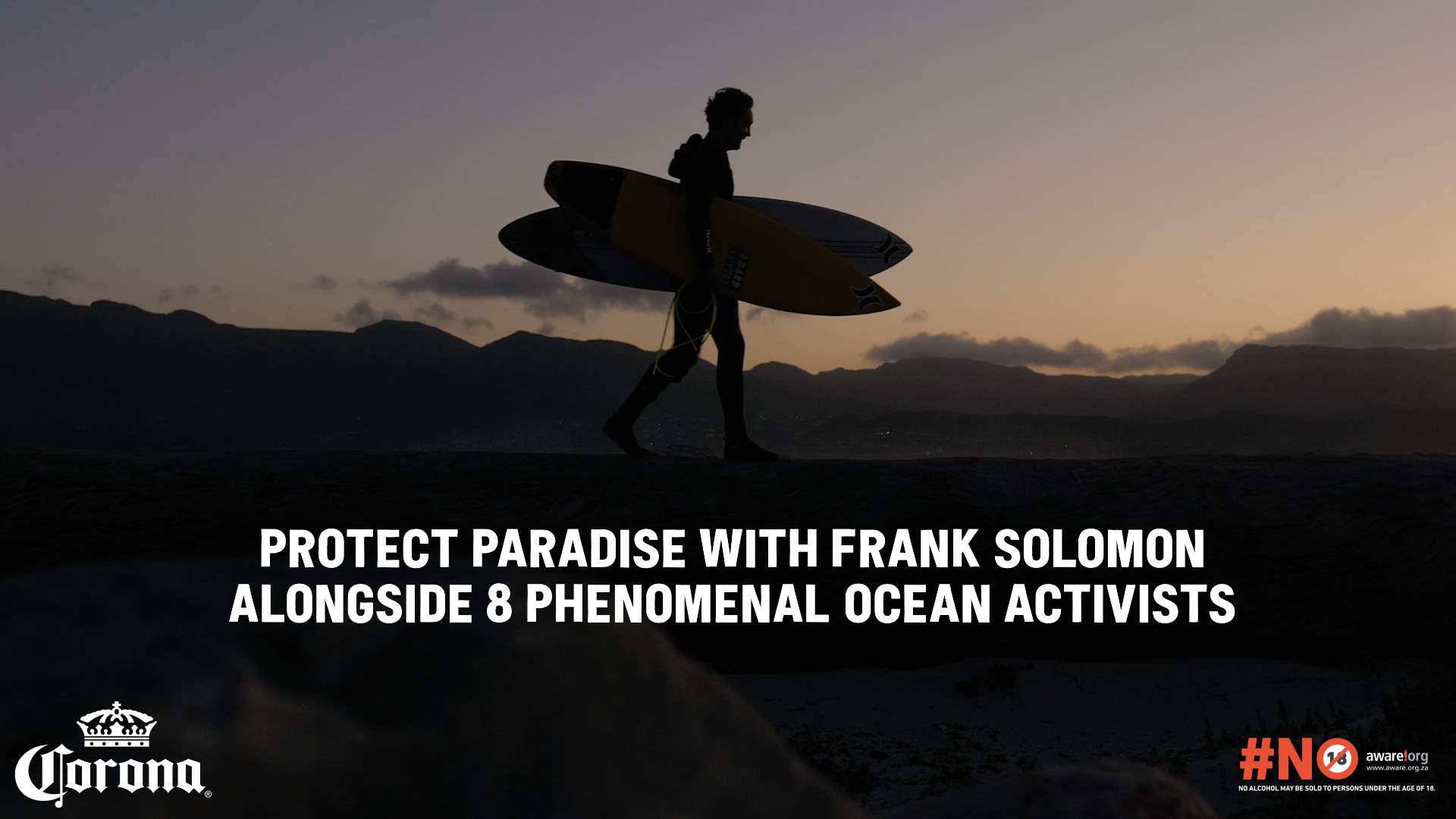 In each of the eight short episodes, Frank visits some of South Africa's most beautiful coastal places and meets extraordinary people – including a marine biologist, shark specialist, an artist and other local heroes – all working to protect our country's coastal paradise.
"Our entire existence depends on the health of the ocean, and, with Protect Paradise, I'm humbled to be able to share these stories while we can still do something about the problem. I know that viewers will be surprised by the creativity, impact, and entertainment value of the series."
– Frank Solomon
Along with Corona Studios' Protect Paradise, this Ocean's Week, Corona is also launching Plastic Reality, an augmented reality experience that allows people to see their annual plastic footprint as if it was in their own living room or on a polluted paradise beach, along with tips on how to reduce their environmental impact.
Ninety percent of plastics polluting the oceans originate from rivers and, in Protect Paradise, Frank begins his journey in Durban where he meets Cameron Service who has designed a litter catchment system to collect rubbish in the city's rivers before it reaches the ocean. The "Umgeni Litterboom Project" is a simple but highly effective system that deals with the problem at source.
The tour along the coast, with stops in East London, Jeffery's Bay, The Wilderness, Gaansbaai and, finally Cape Town, captures immersive and compelling content. In Scottburgh he meets former competitive South African swimmer, Sarah Ferguson, an environmental activist on a mission to highlight the issue of marine plastic pollution. In Tshani (near Coffee Bay), in the Eastern Cape, he explores the topic of eco-tourism and sustainably sourced seafood with Mdumbi Backpackers Director, Sibongile Masiso. Each local hero he meets is committed to saving the oceans for the benefit of future generations.
Corona has also become the first global beverage brand with a verified Net Zero Plastic Footprint, meaning the brand recovers and recycles more plastic from the environment than it releases into the world.
Frank Solomon's Protect Paradise series will run on YouTube through Ocean's Month, ending June 30th. Watch Protect Paradise with Frank Solomon. For more information and to try Plastic Reality, visit www.PlasticReality.com.