This week we're looking at the young fashion design talent herself, Fikile Sokhulu. Sokhulu has been shaking things up in the fashion world since she first started out as a student. She started gaining recognition for her designs in 2018 where they were showcased at South African Fashion Week (SAFW) as an addition of the Durban University of Technology show. It was also in that very same year that she also made it to the final rounds of the SAFW New Talent Search competition. Since then, she's been featured in prestigious publications such as Vogue and has been working with major fashion retailers like Mr Price who presented her with the opportunity to design an entire collection for them. To get a sense and feel of the collection, make to watch the promo video below.
1. How did you first get started in the fashion industry?
I studied a National Diploma in Fashion Design at Durban University of Technology. I was able to present a collection for the first time at South African Fashion Week as a Durban University of Technology student for Rise of the Oxx. I was one of emerging designers presenting at South African Fashion Week New Talent Search Competition 2018.
2. Who influenced your love for design and why?
I particularly was interested in Art and Design, and I always hoped to pursue a career which was part of Art and Design disciplines, hence I studied fashion. As a young designer influence and inspiration comes from different angles.
3. What is Fikile Sokhulu, the brand, all about?
Fikile Zamagcino Sokhulu is a brand which creates clothing which reflects calm, poetic clothing. Femininity is often associated with Fikile Zamagcino Sokhulu (FZS) as well as an organic aesthetic. Fikile Zamagcino Sokhulu is a label with a poetic and gentle interpretation of fashion.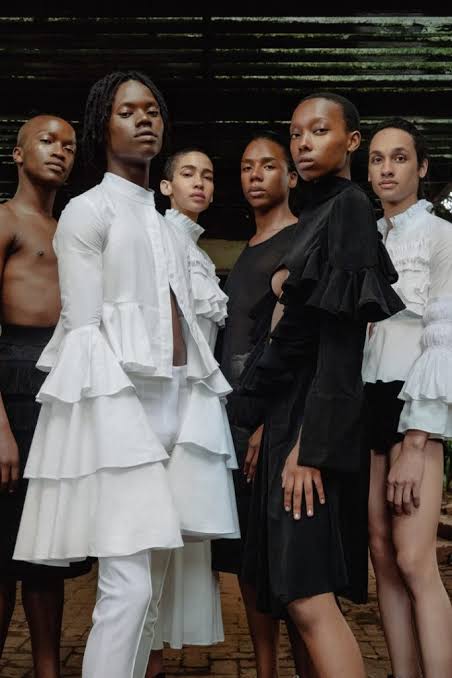 4. What kind of customer do you design for?
An ageless contemporary market.
5. Describe your design style.
Design style is inspired by Nature and wanting to reflect an organic aesthetic. It is feminine,  calm.
6. Which local fashion designers do you look up to and why?
Amanda Laird Cherry, Rich Mnisi. Brand identity stands out , brands exist within a retail space which is what I hope to achieve for my brand.