The Ndzundza Mural Adorns Braamfontein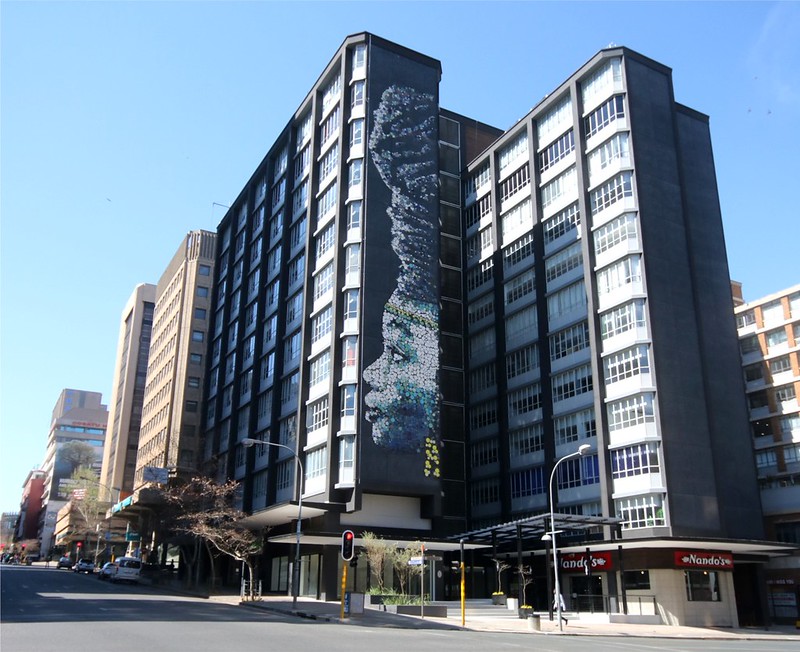 'Ndzundza' is one of the biggest public artworks in Johannesburg to date, built with over 2 000 plates.
As a tribute to the women of Africa's most vibrant city, the iconic Ndzundza/Nzunza mural by renowned artist Hannelie Coetzee was unveiled on Women's Day, 9 August 2018. The mural rises alongside the Nzunza House building (corner of Melle and Jorissen Streets in Braamfontein) and showcases a blend of modern, traditional and cultural values inherently found in all of Africa's women. 
'Ndzundza' is one of the biggest public artworks in Johannesburg to date, built with over 2 000 plates. The 168-meter, ten-story ceramic tile mural, celebrates how hairstyles from different cultures are being expressed in new and current ways.  
The Southern African Ndebele are an eMbo ethnic group who speak Southern Ndebele, which is distinct from the 'Northern Transvaal Ndebele' languages, usually known as SiNrebele or SiSumayela. 
Blending history and landscape 
City Property commissioned the portrait as part of its commitment to the rejuvenation and urban renewal of the Johannesburg city centre. 
Jeffrey Wapnick, City Property MD, said:
When we started the upgrade of the building, the building was covered with old mosaic style tiles. We investigated possible options including cladding, texture, and a public art piece. We wanted something that is proudly South African and speaks to the energy that encompasses Jozi. 

The architects approached renowned artist Hannelie Coetzee and her concept was tied back to the original mosaic on the building. We loved the modern spin on it while still embracing the history about the Ndebele people. We have always used public art to start conversations about inner-city rejuvenation. We've done numerous pieces in Tshwane but this impressive mural is our first major public art contribution to the city of Johannesburg. Our substantial investment through the upgrade of this property and the mural on the façade speaks to our confidence in the area and the city.
During her research, Coetzee discovered that the Ndzundza Ndebele lived in the Highveld from the 1630s until the late 1600s.  
Like the spirit of Johannesburg today, they embraced a cultural inclusivity which often welcomed other ethnicities. Traces of this lifestyle were discovered on pottery that dated from the 17th century and through oral history research. 
Coetzee said: "I had an idea of blending the historical elements of the Ndzundza with the city landscape. 

The use of the monochromatic blue and turquoise crockery plates, saucers and bowls make the mural more abstract. Accented elements are in yellow and white crockery. I sourced it from various potteries and ceramic factories.  

What makes it also quite unique is that most of the experts and artisans were mostly women – from the mosaic artists and assistants to the project manager and the electrical engineer. We thought it would be very appropriate to do the unveiling on Women's Day as we celebrate the power, diversity, and excellence of women.
Facebook Comments