The Supa Mega Reality Show?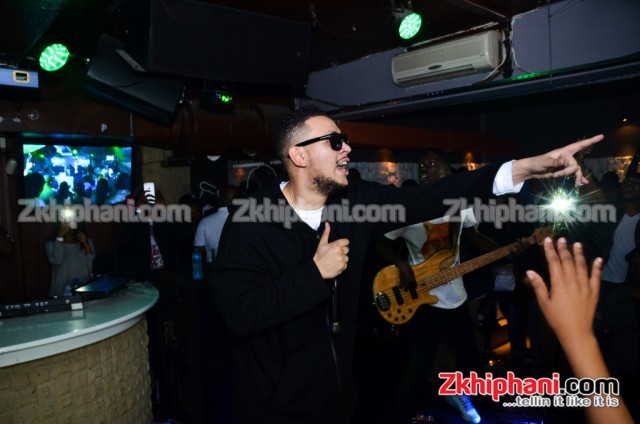 AKA has got to be one of the most interesting personalities to come out of the entertainment industry in a while. He is super talented, has actual opinions on real world issues and is not afraid to clap back to haters when he needs to. The award-winning rapper recently went on Twitter and Instagram to share behind the scenes of his life with his fans. The videos are snippets of his performances and the moments he shares with his band and fans.
Looking at the videos that AKA has been sharing on his Instagram, we thought that it would be dope if the Super Mega got his own reality show.
Since we already get a glimpse of what AKA is like on social media, with the reality show, we'll get to see the juice behind his relationship with Bonang. Can you imagine if we get to see what kind of boyfriend AKA is; is he romantic or the jealous type. Does he spoil her and what do they actually talk about? That would be an interesting insight.
He just left VTH Season to start his own thing, wouldn't it be ill if we could see the beginning of his solo venture and get a glimpse of his business-savvy side?
Imagine if we could see the deals that AKA works on; from music collaborations to other collaborations with big brands. We would get to see the business side of his brand and how he manages it, as well as how he makes it grow.
Imagine getting a behind the scenes glimpse of the Super Mega in the studio making music and coming up with his world class hooks.
AKA and his homies give us real sqaud goals! How ill would it be to actually witness the bond that they share and the moments they have when travelling or before a big show?
Contrary to some of the reports that have come out, AKA has real love for his fans.
There is no doubt about it, AKA lives a very interesting life; take a look at his Instagram and Twitter account if you don't believe it. A reality show would give us a little bit more.
What are your thoughts on this? Would a Supa Mega reality show be lit or nah? Which other artist deserves a reality show?
Check out this video!
https://www.instagram.com/p/BLq6PeXg-6I/?taken-by=akaworldwide&hl=en
http://blockquote%20class=instagram-media%20data-instgrm-captioned%20data-instgrm-version=7%20style=%20background:#FFF;%20border:0;%20border-radius:3px;%20box-shadow:0%200%201px%200%20rgba(0,0,0,0.5),0%201px%2010px%200%20rgba(0,0,0,0.15);%20margin:%201px;%20max-width:658px;%20padding:0;%20width:99.375%;%20width:-webkit-calc(100%%20-%202px);%20width:calc(100%%20-%202px);div%20style=padding:8px;%20div%20style=%20background:#F8F8F8;%20line-height:0;%20margin-top:40px;%20padding:28.1018518519%%200;%20text-align:center;%20width:100%;%20div%20style=%20background:url(data:image/png;base64,iVBORw0KGgoAAAANSUhEUgAAACwAAAAsCAMAAAApWqozAAAABGdBTUEAALGPC/xhBQAAAAFzUkdCAK7OHOkAAAAMUExURczMzPf399fX1+bm5mzY9AMAAADiSURBVDjLvZXbEsMgCES5/P8/t9FuRVCRmU73JWlzosgSIIZURCjo/ad+EQJJB4Hv8BFt+IDpQoCx1wjOSBFhh2XssxEIYn3ulI/6MNReE07UIWJEv8UEOWDS88LY97kqyTliJKKtuYBbruAyVh5wOHiXmpi5we58Ek028czwyuQdLKPG1Bkb4NnM+VeAnfHqn1k4+GPT6uGQcvu2h2OVuIf/gWUFyy8OWEpdyZSa3aVCqpVoVvzZZ2VTnn2wU8qzVjDDetO90GSy9mVLqtgYSy231MxrY6I2gGqjrTY0L8fxCxfCBbhWrsYYAAAAAElFTkSuQmCC);%20display:block;%20height:44px;%20margin:0%20auto%20-44px;%20position:relative;%20top:-22px;%20width:44px;/div/div%20p%20style=%20margin:8px%200%200%200;%20padding:0%204px;%20a%20href=https://www.instagram.com/p/BLq4c3CA1Ds/%20style=%20color:#000;%20font-family:Arial,sans-serif;%20font-size:14px;%20font-style:normal;%20font-weight:normal;%20line-height:17px;%20text-decoration:none;%20word-wrap:break-word;%20target=_blankSomething%20for%20the%20fans%20….%20Every%20week%20or%20so%20we%20gon'%20give%20you%20a%20peak%20behind%20the%20scenes%20….%20#LifeOnTheRoad%20🎥%20by%20@blaq_smith%20Ⓜ️/a/p%20p%20style=%20color:#c9c8cd;%20font-family:Arial,sans-serif;%20font-size:14px;%20line-height:17px;%20margin-bottom:0;%20margin-top:8px;%20overflow:hidden;%20padding:8px%200%207px;%20text-align:center;%20text-overflow:ellipsis;%20white-space:nowrap;A%20video%20posted%20by%20AKA%20(@akaworldwide)%20on%20time%20style=%20font-family:Arial,sans-serif;%20font-size:14px;%20line-height:17px;%20datetime=2016-10-17T16:02:58+00:00Oct%2017,%202016%20at%209:02am%20PDT/time/p/div/blockquote%20script%20async%20defer%20src=//platform.instagram.com/en_US/embeds.js/script
Facebook Comments