When it comes to creating makeup looks and setting the makeup mood for the season we more than likely always refer to our trusty trend adviser app, Instagram. We scroll through long feeds of makeup masterpieces trying to find the style that suits us but more than often the complexity of some of the looks can sometimes leave us feeling incapable of recreating such looks.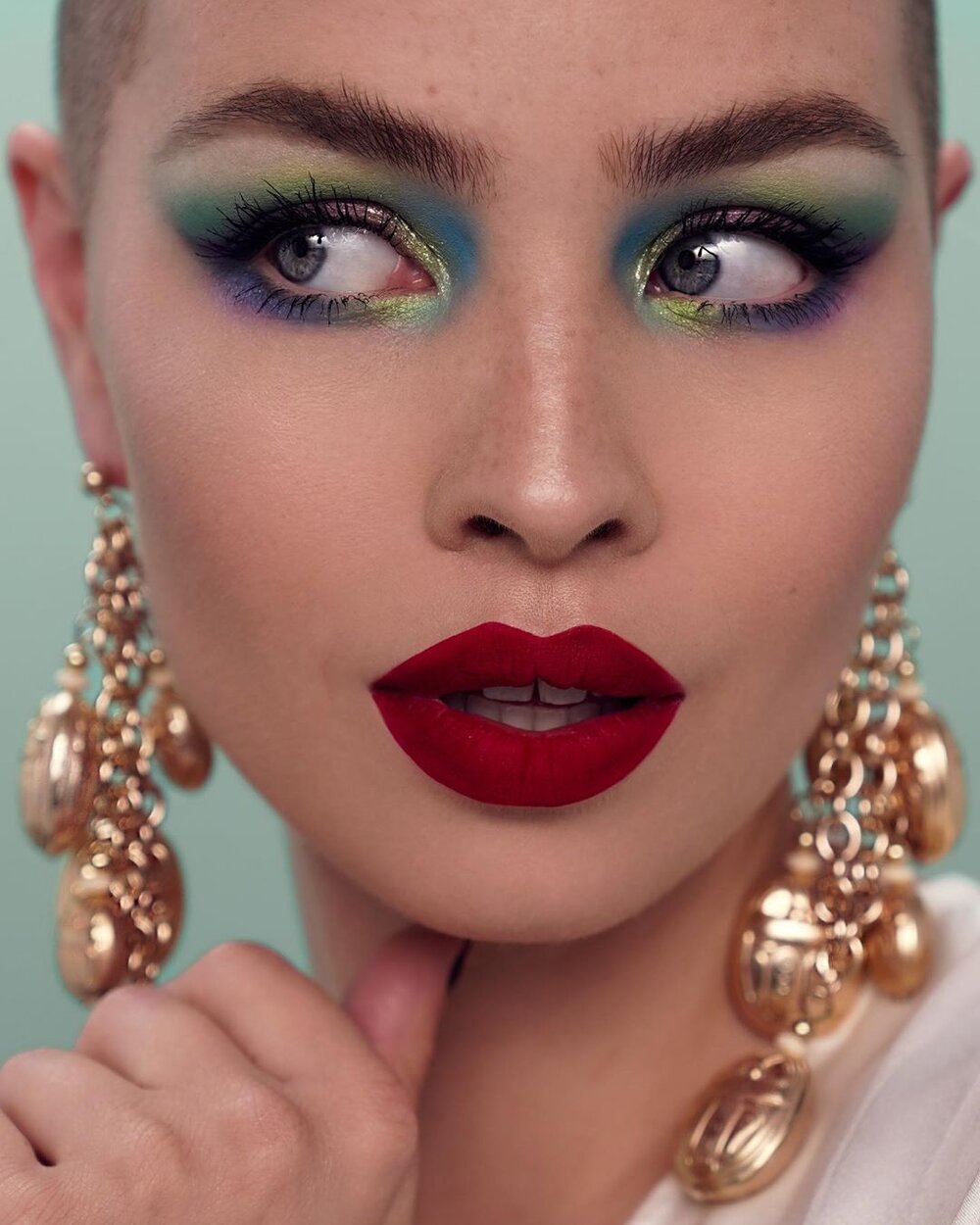 With a range of so many beautiful summer makeup trends it is impossible to stay away from trying out some of them. However if you're not feeling confident about how to go about recreating the looks – we've got your back. We will be uncovering some the best techniques and tricks that even professional makeup artists use to achieve stunning summer makeup looks.
Winged Eyeliner: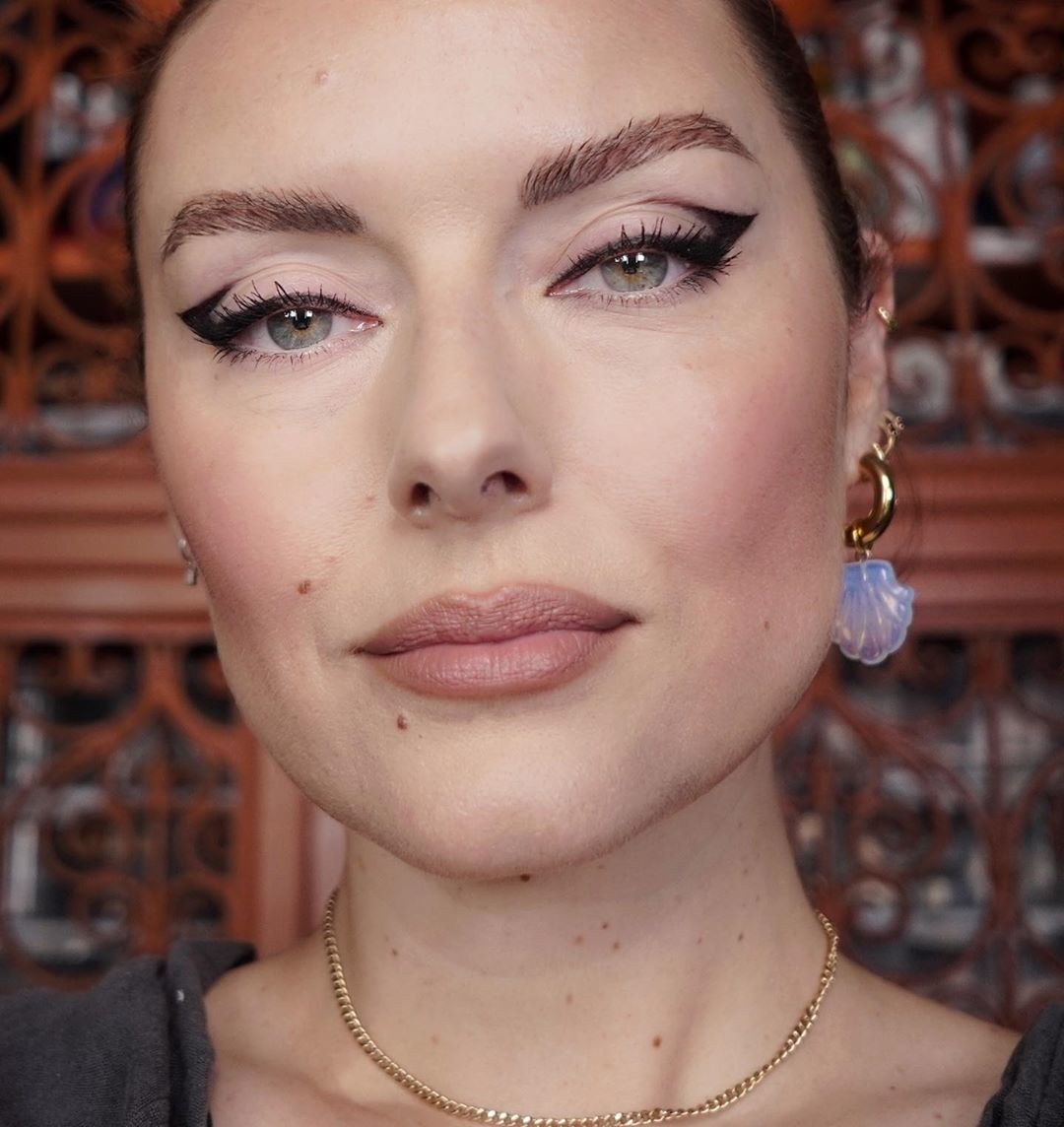 Mastering the winged liner look is just one of those things that has always been challenging to create within makeup. Although they don't tell you, makeup artists themselves even get slightly uncomfortable with the thought of having to create the eye makeup. There's the worry of not achieving symmetry or perhaps even ruining the perfectly blended eye shadow by accidentally smudging the liner. To put it simple, a lot could go wrong.
Luckily for you we have supplied a step by step guide of how to properly create the winged liner look.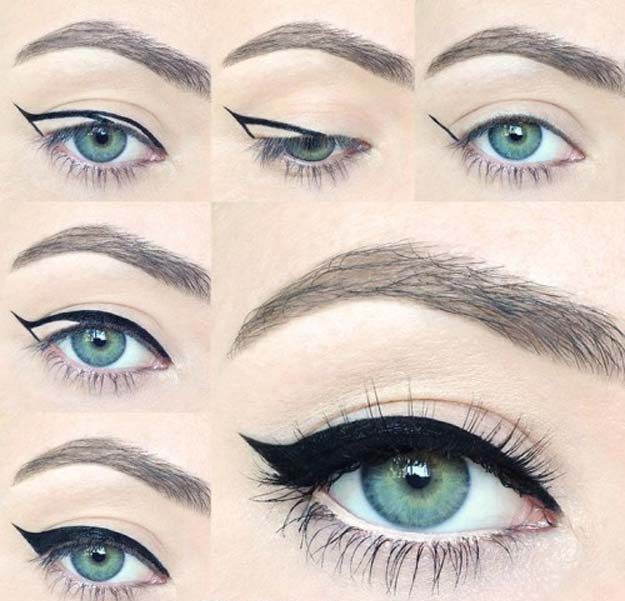 Step 1: Start by drawing an upward line from the outer corner of the eye following your eye's natural winged shape.
Step 2: Locate the centre of the eye and from the centre, draw a line that will meet the flick of the first line you drew.
Step 3: From the inner corner of your eye, draw a line that will seamlessly meet the centre line (the second line drawn).
Step 4: At this point you should end up with a blue print of what the winged liner will look like as shown in the third image above. Use the blueprint as a guide to fill in the spaces with black liner.
Step 5: By step 5 you should have a perfect winged eye, but should you have made a mistake along the way you can neaten and clean it up in the end following the structure and flow of the eyeliner.
TIP: Should you wish to add a pop of colour to your eyes, you could try using different coloured liners. Remember, with winged eyeliner, the only way to get better is to practice so don't hesitate to keep recreating the look.
Abstract Eye Makeup: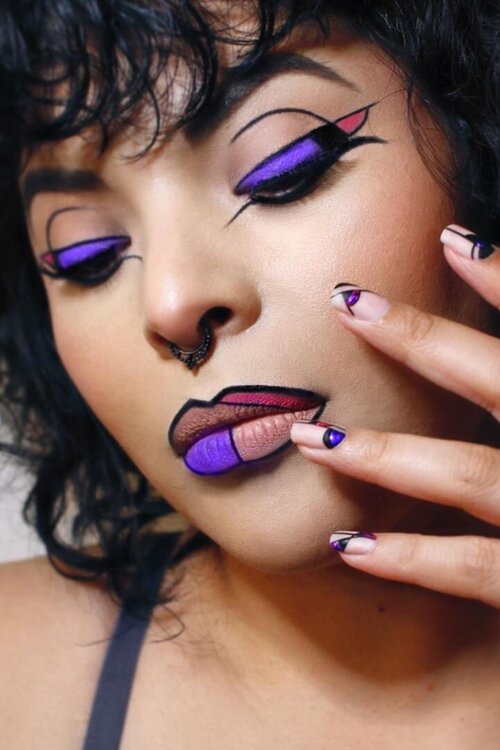 With this trend the pressure is a little less intense as the need for symmetry and accuracy is less crucial in pulling of this look. With abstract eye makeup, you are free to design a create what ever comes to mind and to utilize colour and decoration to achieve the desired look. Spontaneity and creativity are key with this trend.
However should you want to use the above look as a starting point follow the steps below:
Step 1: With a sharp pencil liner, draw a horizontal line from the inner corner of the eye to the outer corner creating a flick at the end.
Step 2: Following the eye crease line from the outer point of the eye, draw a line that ends just after the centre of the eye.
Step 3: From the first line drawn (the horizontal line) draw two short downward lines ending at the lash line. These short lines create shapes for you to fill in with different colours of your choice.
step 4: Depending on your taste, draw flicking lines from below the eye to match the aesthetic of the above abstract eye makeup design.
Step 5: Using either different coloured pencil eyeliners or eye-shadow, fill in the spaces or shapes created by the short lines.
90's Lip Lining Style:
The 90's lip liner trend has us feeling emotions of nostalgic vibes from iconic imagery of Destiny's Child to classic polaroids of famous supermodel, Naomi Campbell. It's now wonder this trend has resurfaced once again. The key to mastering this lip look, all boils down to colour choice and combination because although you want the liner to pop, you also don't want it to be too exaggerated of which blending also becomes key here. So to achieve that perfectly blended and iconic 90's lip liner look, follow the steps below.
Step 1: With a dark brown (NOT black), lip liner thinly outline your lips. Using black lip liner can often look to intense and thus can give off that exaggerated appearance to the look making it difficult to blend lip colors together. However, if you intend to achieve an exaggerated look, then black lip liner would be perfect.
Step 2: Select a light pink lipstick colour and lightly apply to lips. As you apply the lipstick, use a small brush to blend the liner and lipstick together almost seamlessly.
Step 3: Depending on your taste, you can apply a gloss over the lip look for a shimmery glossy finish. Alternatively should you prefer the matte look, then you can stop at step two above.
TIP: Blending is key. So take your time and blend away.