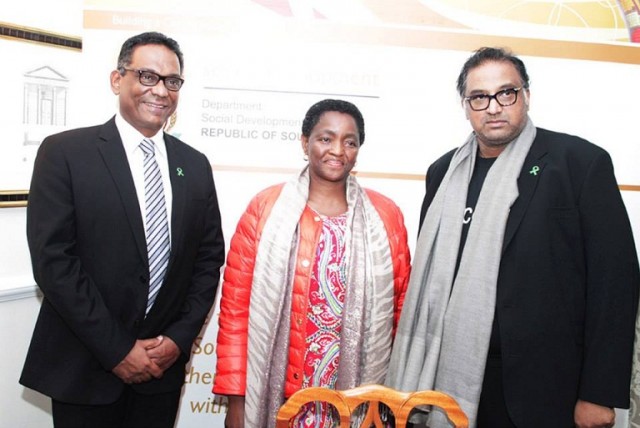 UNICEF South Africa along with the South African Department of Social Development and UNICEF Goodwill Ambassador, Gavin Rajah launched the End Violence Against Children Campaign today. Following the unveiling of UNICEF's global End Violence Against Children initiative last July, It is envisaged that the launch and subsequent actions of the campaign will provide traction for the country as a whole to challenge and end acts of violence against children.  The campaign will be sustained through all role players to ensure that effective actions are defined, implemented and monitored in the country and beyond. This campaign recognizes that a durable and sustainable resolution for ending violence against Children calls upon a multi-stakeholder coalition that rallies together the commitment and assets to stem out this debilitating scourge to society.
As articulated by the Minister of Social Development, Honourable Bathabile Dlamini: "The South African government has placed the rights of the child at the centre of its services. Every year the Department of Social Development has a National Child Protection Week, which aims to raise focused attention to South African children's right to protection. This partnership with UNICEF gives us the opportunity to make everyday a child protection day. We call upon EVERY South African to assist government to end violence against all children."
Despite world-class legislation in the areas of child protection, domestic violence, sexual offences and violence against children remains high, both in terms of its prevalence and severity. For the period of 2011 to 2012 alone, there were 50,688 registered contact crimes against children of which 25,862 were sexual offences (South African Police Services, 2011-2012).
"Every South African child has a right to be protected from harm, abuse and exploitation. The realities however are that violence against children is often unseen, unheard and underreported. Violence and abuse against children is not always physical or sexual in nature, but includes insults, isolation, threats and rejection. Violence against children is a human rights violation – one that hinders children's growth and development to their fullest potential," said UNICEF South Africa Goodwill Ambassador, Gavin Rajah.
In 2012 the leadership of the South African Government expressed its commitment to tackle this national issue when the end of violence initiative was elevated to Cabinet level with the establishment of the Inter-Ministerial Committee on Violence against Children and Women and the formation of the National Council against Gender Based Violence. In drafting its Programme of Action to serve as a national framework for implementation, the Inter-Ministerial Committee noted that despite significant progress made over the last 20 years, South Africa still has a long way to go in addressing societal and cultural norms that fuel violence against women and children.
Against this backdrop and the work already done, it is recognized that a durable and sustainable solution of ending violence against women and calls upon a multi-stakeholder coalition that brings together the commitment, the will and the assets from all segments of a society facing the challenges of ongoing violence against children.
"Let's be clear: the launch of this campaign is only the beginning. We have to continue to build strong alliances to raise awareness about the impact of violence on children and to strengthen prevention and response systems. In the coming months, and in support of Government we will get many more partners on board", said UNICEF South Africa Country Director Herve Ludovic de Lys.
The launch of the End Violence against Children Campaign in South Africa aims to galvanize the entire nation to stay alert and protect every child in South Africa from any form of violence, amongst others the campaign calls for:
•           The prioritization and/or reallocation of resources (both human and financial) to end violence against children.
•           Development and implementation of multi stakeholder action plan (giving life to legislation with clear accountability measures).
•           To advocate through a multi-faceted, multimedia to urge every adult and child to stand up against violence against children.
The Gavin Rajah Fashion show taking place on Thursday, 24 July at 19h30 at the Mercedes-Benz Fashion Week, Cape Town International Convention Centre will be used as a springboard to launch the national campaign to end violence against children. For more information on UNICEF South Africa you can follow their Facebook page UNICEFSouthAfrica and Twitter profile @UNICEF_SA.