WATCH: Cooking Videos with Microwave Boys #AwesomeFoursome
Starring Sipho "Sipho Says" Muchindu, Larry "Larryngitis" Nhlane, Sphakamiso "Sphaka" Ngonyama and their producer Lesang, the Microwave boys have become an internet sensation in South Africa as their vlogs are currently sitting at almost a million views. The trio produce weekly funny social commentary videos that focus on Mzansi's pop culture and all the trending weird topics on social media. We went to do a behind the scenes feature with the boys at their production house which is situated in Woodmead, Joburg. The team shared with us how they #CelebrateDifferent & the various flavours their personalities represent which helps make their videos awesome! Each member is an individual brining a different skill set to the project & #AwesomeFoursome is all about acknowledging & celebrating this!

We had an interesting chat into what makes the Microwave Boys so successful and what it takes to be an impactful vlogger, the team later enjoyed a delicious Awesome Foursome™ Pizza from Debonairs Pizza after the interview. It got a bit cold so we had to first pop it into the Mircowave a few minutes, get it?? Ok that sounds a bit cheesy hahahaha.
Facebook Comments

Meet the #AwesomeFoursome team behind Lady X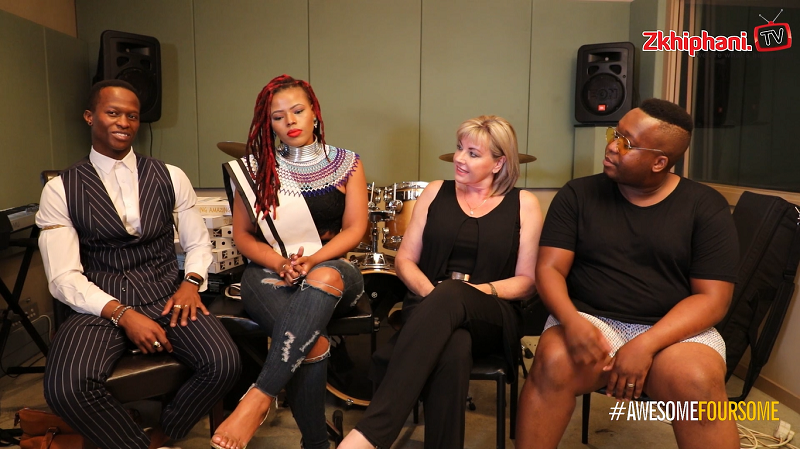 We believe that for every amazing piece of music there's always a team and some of the other members are usually behind the scenes & therefore never get acknowledged or get the credit they deserve. We also believe that there's usually four people involved, #AwesomeFoursome is all about acknowledging all four members & highlighting the fact that each is an individual & brings a unique flavour to the awesome project they collaboratively create.
Lady X is a multi-talented vocalist and all round talent who has clearly made an impact in the music scene with her rich and distinctly soulful voice. She recently released a music video for her latest single, iGugu Lami late last year, the love she has received since dropping this song has not changed.
We were intrigued with her rare flair so we went to see her at her recording studio and got a chance to meet her whole team which consist of; Nkosiphile Ngcobo who is the creative director, Sheryl Govender who is her manager as well as well as Big Dreamz who is the producer. They gave us insights into what makes the brand Lady X work and what it takes to be a successful artist, the team later enjoyed their different choice of flavour from a delicious Awesome Foursome™ Debonairs Pizza after the interview.
MEET THE TEAM:
Big Dreamz
Nkosiphile Ngcobo
Sheryl Govender
Facebook Comments