Have you ever wondered how the streaming numbers from your favourite artist look like?
Today we are about to give you an inside look into some of your favorite artists streaming numbers with the help of Electromode. This is a digital Music distribution service that allows you to share and publish your music across multiple online streaming platforms.
Electromode wasn't always a digital distributor, they started off as a record label that housed artists like Teargas, JR, Dr. Victor to Die Heuwels Fantasties and Jack Parow. Since then the company has converted its business model to a digital distribution company, having direct deals with all the major digital stores (iTunes, Spotify, Amazon, Google, Deezer, YouTube, Boomplay etc) allowing artists the freedom to own their masters and have the lion's share of their sales.
With top distributed artists from various genres like The Scorpion Kings, Kabza da Small, Maphorisa, Sjava, DJ Tira, Blaq Diamond, Shane Eagle, QTwinz, Naakmusiq, Duncan, Big Zulu, Okmalumkoolkat, Prime Circle, Mi Casa, Benjamin Dube, Spirit of Praise and many more. With over 20,000 local tracks online it's no wonder Electromode is smashing the ball right out of the park when it comes to the charts. Here are the facts regarding the streaming numbers on all the platforms:
The biggest win for South African music here is in a world where we see artists dying penniless, the deal splits that Electromode can give are the most competitive in the industry. Having 40 years of experience in the music industry, Electromode empowers artists to always have a perpetual investment in their own careers. Let's celebrate the fact that times are changing, and we can all see our favorite artists get what's due to them.
Check out the charts below to see what the numbers look like for some of the biggest artists in South Africa right now.
Shazam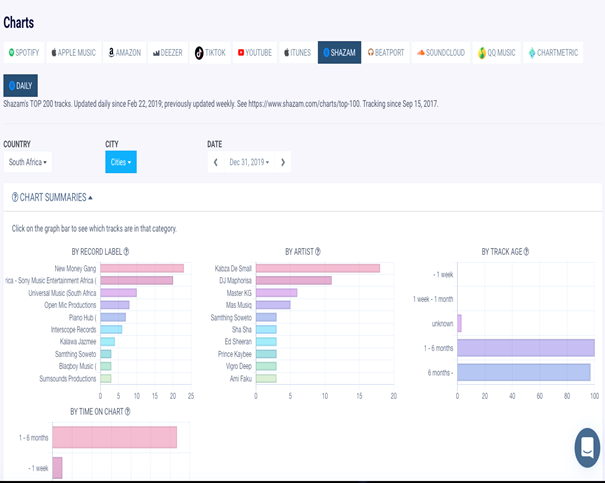 Youtube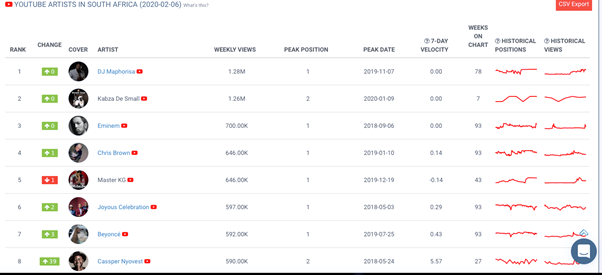 Apple Music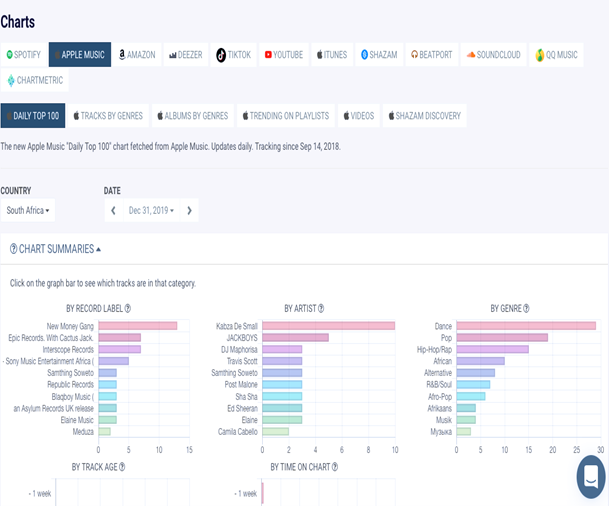 Spotify