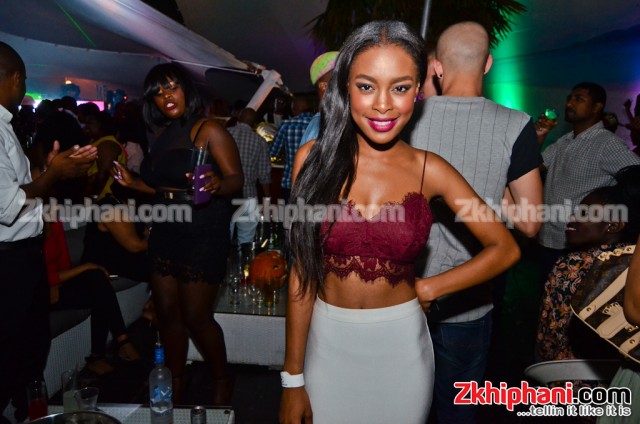 The end of the year is edging closer and closer and the amount of parties, weddings and funerals that are coming up are something to look forward to. This past weekend was lit, there were events happening left right and centre. For now, let's take a look at what our celebs were up to this past weekend.
You now how much we love love and all the good things that come with it. So when we heard that one half of the Major League DJ's, Banele Mhere, was engaged, we were smiling. The lucky lady is budding make-up artist and student, Mihlali Ndamase. According to sources, the pair are in love and spend a lot of time together. When the paper contacted Banele for comment, the DJ said that Mihlali is wearing a promise ring, not an engagement ring. We will keep our eyes and ears peeled on this one.
You know that with every story we bring you, there is always a love triangle situation. This time, rapper Shugasmakx is right in the middle of it. According to Sunday Sun, Tshepi Vundla and TV presenter, K Naomi got into an all out brawl in full view of people over Shugasmakx. First of all, these two ladies are besties so why would they be having a full out brawl in front of people? And secondly, Shugasmakx is a married man. I'm not saying married men don't cheat but come on, have you seen his wife?!
Tshepi took to Instagram to dispel the rumors that she is on bad terms with K Naomi. She posted an image of the two of them with the caption: "No need to explain what is both negative and untrue. Don't always believe what you hear and read."
Lark, do people still get dumped for blessers in this day and age? It seems like the blesser-blessee culture still has some dudes by their short and curlies because they are feeling the heat. One such person is Afro-pop singer Lungelo Lubelwane.
Sunday Sun reports that the singer has dumped his girlfriend, Ziyanda Msomi, after he found out that she was cheating on him with "sugar daddy" and "blesser" Pat Mdoda. Lungelo apparently found out about the affair when the pair went to a Pirates and Chiefs game although she insists that they are just friends. Lungelo confirmed the break-up, but said: "I'm not the right person to speak to. I wish Ziyanda all the best with her new man." You know a guy is over you when he wishes you the best with your new relationship. Ouch!
Another one who is living the blesser life is Mshoza. The kwaito singer is rumoured to be the third wife of KwaZulu-Natal businessman, Thuthukani "Thuthu" Mvula. She loves them with businesses neh? Sunday Sun reports that the pair made it official this past weekend when Mvula's family officially welcomed Mshoza as the third wife in a family ceremony.
Reading this story, I couldn't help but wonder why Mshoza didn't give her uncle the memo. She denied the ceremony happening but the uncle went in and told the paper everything that went down. He even mentioned that he hopes that she is mature enough for this marriage and is quoted as saying: "We don't want to see them all over the newspapers with negative publicity." Let's just hope she stays in this marriage, for her family's sake.
And Khaya Mthethwa might be trying out the marriage thing again. Sigh, this is exhausting!
Deep House Dj Mobi Dixon is in trouble with singer Inga Hinga over one of his hit songs, Trigger. Sunday Sun reports that singer has been asking Mobi Dixon to register the song with the Southern African Music Rights Organisation (SAMRO) as 50/50 contributor but the Mobi Dixon has been dragging his feet for 6 months.
This is not the first time that the DJ has been accused of stealing music. His first hit single that launched his career, Summer Rain, is also alleged to have been stolen. There is legal action involved and this is such a mess. When will DJ's learn to give credit where credit is due mara? Side eye Lulo Cafe. Did you get the Nothende royalty situation sorted out or nah?
 Which news caught your attention this past weekend? Let us know!