Zaki Ibrahim: The Neo-Jazz Messenger Is BACK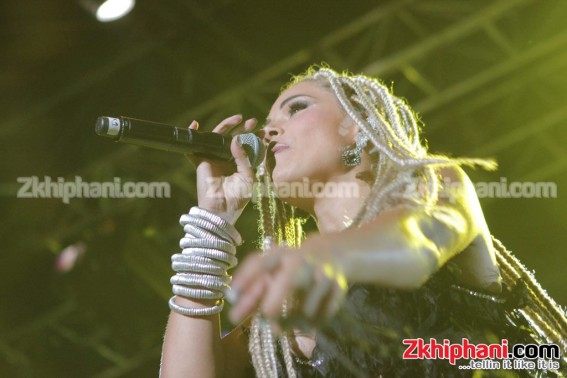 Zaki Ibrahim is a name synonymous with soul and eccentricity, in fact, it is safe to say that she is the neo-jazz fusion messenger who has gifted us with music from the future.
She was born in British Columbia to a South African father and a United Kingdom mother and since then she has been travelling between the two places which she calls home. This could possibly lend to her international, almost worldly and refined sound; music which is a seamless and vibrant fusion of soul, funk and jazz and an unknown element that only she can give. It's quite exceptional.
The first time I heard of Zaki was back in 2011 and I was highly fascinated by her aura as an artist. I saw a video of her performing Lost In You in Toronto and it was electrifying! I was not only impressed by the song but by this artist who was new but had the confidence of a veteran. Her ability to draw the listener by just being present as a performer was amazing! Since then her music has been a quiet drug, invasive and necessary.
The thing about Zaki Ibrahim and her music is not that it is exclusively current and fashionable, but it is classic and relevant. She is a hell of a writer who has mastered to incorporate commentary on social issues or any other issue with just enough whimsy and poetry to make her audience think and engage with her while getting lost in her voice. There is something ethereal and other worldly about her music, as if she is bringing to us messages that were cultivated in the future for the present.
She has shared the stage with the likes of Erykah Badu, Young Fathers, The Roots, and Saul Williams to name a few and has worked with both known and emerging including DJ Kent, DJ Catalist, Tumi And The Volume among others.
She has a few projects under her belt including Shö (Iqra in Orange) which was released in 2006, Eclectica (Episodes in Purple) which dropped in 2008 and Every Opposite released in 2012. She recently released an EP titled ORBIT: A Postcoital Prequel EP which was recorded at the Red Bull Studios in Cape Town. The accomplished artist has been working on a new album and we have no doubt that it will be as authentic, intimate and ethereal if not more than the previous work.
Ibrahim dropped her newest song with Mike Kelly, Live Better, today! Peep it below!
[soundcloud url="https://api.soundcloud.com/playlists/330042137″ params="auto_play=false&hide_related=false&show_comments=true&show_user=true&show_reposts=false&visual=true" width="100%" height="450″ iframe="true" /]
Also check out the mini-documentary on her and the making of the song below.
Facebook Comments