Headlined by AKA and Cassper Nyovest.
In celebration of Youth Day, June 16, local rap rivals AKA and Cassper Nyovest will take to the stage in Maboloka, Brits to commemorate the 3rd anniversary of Join the Movement, a festival to raise awareness of nyaope addiction in the region.
Brought together by Isibaya actress and philanthropist, Zinhle Ngwenya and her husband Robert Ngwenya's MZ Ngwenya Foundation, the annual Join the Movement Festival aims to continue its mission to address the challenges affecting the youth of today, particularly substance abuse.
I started Join the Movement to make a difference in the lives of the youth and with the prevalence of substance abuse, it's crucial that we create a platform for conversations around curbing drug abuse and uplifting our youth
says Zinhle.
The festival will take place in Nomaqala 'Home of Hope', named after Zinhle's late mother-in-law.
The event is also in her honour because she believed in empowering the youth. We'll be opening the doors to the home soon and I want Nomaqala 'Home of Hope' to be the place to inspire and motivate all young people by creating awareness in the fight against nyaope, and also give them the tools to clean up and rehabilitate their lives
enthused Zinhle.
While tackling substance abuse is their top agenda, Zinhle and her husband insist that this is just one part of the Foundation's overall mission.
The biggest driving force of the foundation is to upskill the youth so that they may stand up for themselves and make a change, not only in their lives but also in their communities. The youth are going to lead this country, and so we should support them where we can
added Robert.
Joining AKA and Cassper Nyovest for the celebrations will be DJ Tira, Kwesta, Emtee, Naak Musiq, Mlindo, Busiswa, Sjava, and many more.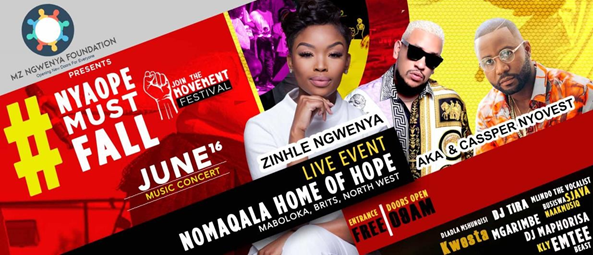 The event starts at 12PM
Tickets are free.